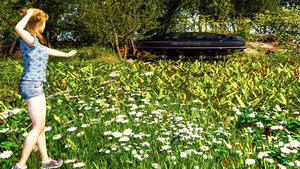 I am Flying a UFO is a story written by Mia, originally for a tune of the same title from the Terran Spiral album Time to Slide.
It is also the Prequel to the story Lost Sky also penned by Mia
I am flying a UFO!
Written by Mia
Mia, has what she likes to think of as her own secret meadow in a part of a local forest she loves to visit. She has never seen another soul there so believes it is her own secret place where she can go to think and get away from the chaotic world of civilization. One day she comes to her meadow where, to her total amazement there is a small silver object about twice the size of a car, hovering or floating there in her meadow. The object or is it some kind of vehicle, she questions? Mia, quickly glances around her to make sure there is no one else around. Also it's not really silver but it reflects everything surrounding it. Mia plucks up her courage enough to try and approach it to get a better look, But then she jumps back with a start! All of a sudden a door opens and a ramp slides down to the grass. No one emerges, so Mia inches forward totally bound by curiosity that overcomes her fear. She slowly walks up the ramp saying "hello?" "Is anyone inside?' " Silence answers back. Now, she can't seem to help herself and walks further up the ramp desiring so badly to see inside. Mia ventures all the way in and is totally blown away by what she sees. Not only is the interior covered with banks of data panels and blinking, throbbing lights but it appears to be larger on the inside then on the outside. In the middle of it all is one very sleek but strange looking chair that also has blinking lights and data streams all over it. Mia starts to feel very sleepy and a voice inside her mind tells her to relax and sit in the chair. Without any hesitation she slumps down into the chair. The moment she sits down belts close aground her, but only appear to be for safety and not to hold her prisoner.
Suddenly Mia feels the strong sensation of movement. Then two small windows appear to the front and a bit overhead, allowing her to see the green of tress passing by, then blue sky, then very dark blue sky, nearly black. Finally just stars, She becomes very elated claiming out loud "I am flying a UFO! Or is it flying me?! With no warning she slips into a deep sleep. Mia slips further into the land of sleep, she then starts to have vivid dreams. All of them very strange and hard to describe. The dreams morphed to one indescribable scene or event after another then it seemed her dreams change to a waking dream where the ship she traveled through space began approaching a large blue and green planet. Down down down she went then landed on a very surreal world. Mia could make out shapes and forms but all in a fog. Some beings, that also seemed to  be vague forms and foggy in appearance talked to her mind trying to re-assure her she would come to no harm. They  took her on a tour in another vehicle she really couldn't provide words for, where she traveled around what looked like an endless city that had huge forests both throughout and around the perimeter. Even though she  could tell the trees in the forest were actually trees they were still wrapped in fog. After a long while she found herself back in the space ship, this world's beings having wished her a safe journey home. Returning to outer space and back in her spaceship, (she had come to feel it was her special space ship) Mia found herself sinking into a universe of dreams. When she awoke she was sitting in the meadow back home, the strange space ship no where to be seen. A deep sense of melancholy enshrouded her. Mia wasn't sure if she had just laid down before and dreamt the whole thing, She just knew though that it had all been very real. Mia also knew she would not bother telling a soul as who would believe her. So for now, her secret meadow also bore another secret that she would live within her memories for a long time.