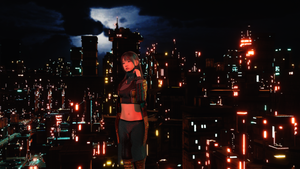 Kai in Dystopia 
My name is Kai, I think I woke up today. Not sure if this rotting world is just a nightmare or I am really awake and aware. 
I find myself on a train. It seems to be empty. Every seat is taken by faceless forms that may be people. They aren't really faceless to my inner 
mind though. There is a sweet teenage girl next to me, except she dresses all in black and acts like a punk. 
I gaze out the window. Neon lights ghost by me intertwined with chrome, and concrete. 
Time seems to stream by me as the world around grows darker and yet brighter with an endless piercing vision of neon and dark forests, as far as I can see. 
Motion stops as it seems the train has arrived at its destination. 
I start to wake up from some kind of trance. No one approaches me, so I walk slowly to the exit and my feet touch concrete. I look all around me and nothing but bodies and blood all over the Train Station. Oh no! Is that the girl from the train? I see her a short ways from me, slumped over with blood oozing out of her?! I thought I heard machine gun fire and screams., I just knew it had to be part of this nightmare. I recognize some of them from the train! I then hear a thunderous male voice, on a loudspeaker bark out this! "Just know these people were just a sacrifice for our common good. And for your freedoms you enjoy here. As I look around me I notice slumped over humans shuffling around the bodies not seeming to care. I find my self just annoyed and curious as to this scene before me. Why am I here? Where am I suppose to go? 
The fog in my head lifts completely, I am now awake and want to find a place to hide, to become invisible. 
Backstory: 
Kai grew up with two brothers (Chae and Jae) and and a sister (Ari). Their parents Mira and Hiram Jeong 
They grew up in a modest house in a small town not too far from a local mountain range and far enough to feel safe from the spreading Dystopia from the nearest city. It is strangely named Dystopia. The new rulers of that city named that after most of the US had moved solidly in that direction. Of course the creators of this new world that is being formed they changed the meaning of Dystopia to mean: " New Freedom" 
Both of Kai's parents had formed a new group to try and resist the horror of government sanctioned violence and murder of anyone not agreeing with their new "freedoms". 
Eventually when Kai was about 15 the group thought they had a large and organized group to challenge the city of Dystopia. Their revolt became a tragedy. as most were killed including Hiram. And their mom, Mira was arrested and all her children too. But the children were forced to watch Mira being executed by firing squad. (they used advanced machine guns) 
All four children were then released back to their home. The government officials felt they would become good citizens due to the fear they were now influenced by. 
As all four grew up, all having terrible nightmares almost every night until Kai. who was the oldest and strongest, did her best to console them, the horror subsided over the years. 
They all had access to the modest funds that were left by their parents. 
Over the course of four years those funds were getting thin. Then one day Kai woke up one day to 
find her siblings were gone, no where to be found. She asked all her neighbors if they had seen her brothers and sister, Finally one told her she saw them walking towards the train that goes into Dystopia. 
Kai Jeong, was too afraid at that time to try and go to Dystopia to find then herself. She decided to sell the house, which was nearly payed for and move into a cheap apartment. She chose this apartment building since it had the forest near the back of the building. Over time she would hike through that forest from memory so she made sure she could find a cave that her parents and their rebel group had shored up and installed freezers and other ways to preserve the food stocks they had had built up over time. Kai would slowly buy new food and other needed items to stock up. Why she was bothering with al of this Kai had no idea. She had a gut feeling that this was needed. 
Kai lived in this apartment for about three years when one day after falling asleep after listening to her favorite radio station's music found herself walking towards the train to Dystopia. 
Kai's story moving forward 
Where to go now without being noticed, Kai, thought to herself. The fog over her mind began to lift and she felt that seeing all the dead including the young lady who sat next to her on the train being basically slaughtered, brought back the horrid memory of her mom's execution. 
Kai began to walk past the train station and over into an alley to the west. As she began to walk towards what looked like some kind of inn or pub she was startled by someone whispering her name! 
Time to retrace time here a bit. Kai's sister and two brothers had roughly the same experience Kai did. All three boarded the train, being lost mentally in a kind of trance. Big difference though is they didn't face the wholesale slaughter that Kai faced on departing the train. 
They wandered around very confused and scared. Once they calmed down they realized this was normal for this dark world. The leaders would occasionally use music, but mostly adds on popular radio stations to pull outlying citizens, especially young ones to pull them back into the city. That way they can monitor them much easer. After all they wanted to prevent another uprising. They found a local pub and met a couple there whom they befriended. 
Chae and Jae, and Ari knew what happened to them would happen to their sister Kai, eventually. 
After meeting the couple, James and Kelly they started to ask questions of them. Kelly spoke up first telling them both they all needed to go quietly to a secret place they found cause they shouldn't be talking much out in the open. 
All six walked and walked turning so many corners and going down stairs that were apparently hidden from view. Ari just new they would never found their way out of here. They then walked through a door, went past another flight of stairs into a room, A large room. This seemed like it once was a factory though most of the machines were gone or just shells of their former selves. 
Parts of this room seemed to be kind of cozy. They all sat at a table in the middle of the room where the siblings told their story to James and Kelly, they said they had no idea if and when Kai would arrive here. 
Years flew by as the six worked hard, while trying to avoid detection and random killings or executions by local soldiers or police. They would quickly check out the train station not staying very long. 
One day Mike and Kelly told the siblings that the train would be arriving soon and also detecting a lot of Dystopia's soldiers headed that way. The gang arrived there finding a place to hide. They then witnessed the horrifying slaughter as passengers who got off of the train. 
Chae and Jae, and Ari where so relieved when they saw Kai exiting the car she was in after all the killing had stoped. 
When Kai started to walk away towards the western alley. that is when they moved close enough for a whisper from Ari. 
Kai started then smiled broadly as she saw her sister and brothers! 
Omg she whispered as loud as she dare! 
There were now seven in their little group 
Over time they taught all of the "new rebels" Mike and Kelly branded them, and began to learn the ropes of getting around the area safely. Mike and Kelly taught them how to avoid detection by the locals, not just the "authorities". As you couldn't really trust anyone. 
Their plan? To escape this city and go to the perfect place to hide and live. Kai refused to tell them about it or where it was. It took another year of doing odd jobs earning enough to buy packs and food, drinks, and other supplies for the long, very dangerous journey ahead. During that time they experienced close calls of local and authorities discovering them, nightmare like mass executions, enough to hate this city so much they could hardly wait to leave. 
After a few more months planing the final touches to their plan, they decided it was time. Both Mike and Kelly said, "There is an abandoned, never finished, transit tunnel we will begin the escape through. It leads past the city into the outskirts, There are open fields, a few farms there, until we reach a forest. Kai let them know she will guide them there to the final destination. 
As the seven move down past several doors, hallways, stairways into a semi broken side entrance to the old transit tunnel they found themselves in a giant tunnel that looked modern if not a sad semblance of what it was going to be. 
This made it seemed easy to escape from but they knew it probably has camera's and guards that could hinder their passage. If they were caught would be the end for them. They began their slow, methodical sneak down the tunnel. They thought they had a few close calls but, Mike and Kelly, especially Kelly were quite adapt at finding and disabling the camera's. Guards were or even possible, and drones where never found. They just hoped those were not so well hidden that they had been missed.They stopped in hidden rooms a few times to lightly munch on some food supplies and a little water. After what seemed like days they finally found the exit Once there, Mike went up the stairs and opened the door cautiously and looked around outside. He motioned them all to head on up. 
Open fields! They all felt a strong sense of relief and yet it was also scary as they would be out in the open. The seven moved swiftly and silently not daring to look around themselves or in to the rear as not to arouse any suspicions for any that might be looking from afar. 
They dared not stop to eat so, when finally arriving at the forest they stopped a short ways in to quench their thirst and quell their hunger. 
They had thought that the long journey through the forest would be an enjoyable excursion. But they never shook the feeling they were being followed. 
It was probably just their imaginations, inspired by the never ending horrors in Dystopia. Now they did continually feel as if they were being watched by ghosts. They hiked on a continual uphill grade through the forest. After at least a week or more and when nearing the end to their food and water supplies, Kai, said, "We can stop now we are here." 
They found themselves near the foot of a vast mountain range. Since Kai had taken the time to remember the location and further stalk it with more supplies, she felt confident in their safety. Kai found the entrance, which was hidden with a nearly invisible panel where she entered a code. A door opened for them to what looked like a gaping dark hole. 
Once inside they found themselves inside a giant cave with several side rooms. They spent some time looking around and Kai showed them as around as well. For the first time all of the "rebel escapees" they came to call them selves began to feel safe and could relax. 
After a good night sleep and hearty breakfast in the morning some dark thoughts and questions began to creep into their minds. What is worse all the horror over the years came to the surface of their injured minds. They all had escaped Dystopia but had they?..........