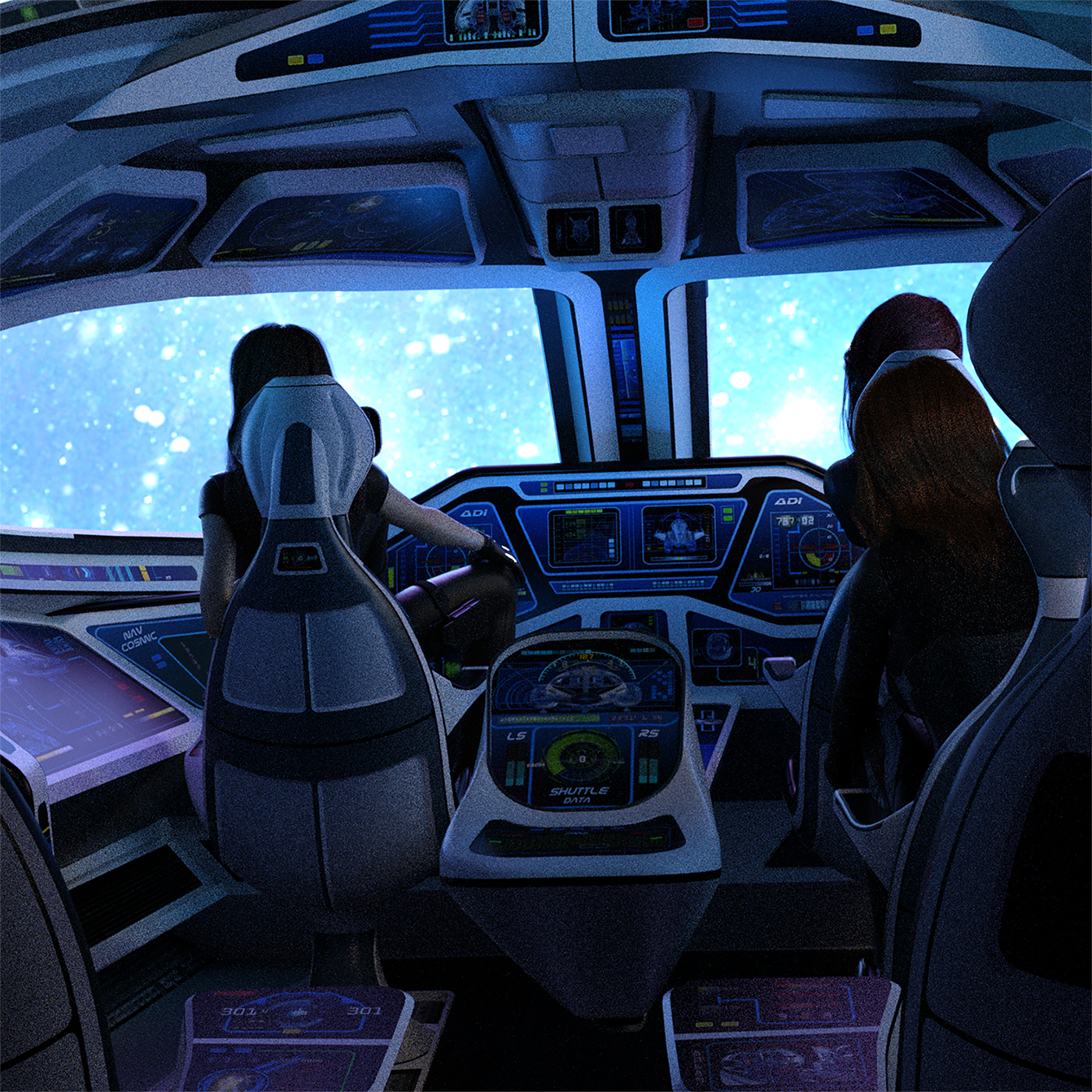 Dimensional Saga 
Prologue 
This story is being told mainly through the music of Dragon Extinction's albums which began with the Slingshot Around Worlds volumes. 
Though the longer saga began back with Mia 19 years ago now. This was on the Terran Spiral album, Time to Slide. The final song was called "I'm Flying a UFO!" 
This was Mia's story to tell. Her story resurfaced when the album Lost Sky was created. This is over time, how Mia found Andromeda and Vega, or how they found her. Unlike a normal novel, this story is being told over a series of musical albums. I realized I need to keep the whole story in one place before it becomes fractured by time. 
I shall note during the story what certain story elements, (i.e. tracks that have audio story telling on them), which track and album they each are on. 
Andromeda and Vega's story began many years and decades ago. They began in the mind of a child who found the universe where Andromeda and Vega belong, when searching for some meaning and adventure in that boy's short life so far. 
Theories and thoughts behind the universe where Andromeda and Vega live: 
Energy is part of everything. There is a theory based on Quantum physics that states that consciousness is linked to energy which is the fabric of everything. They are apart of each other. So the conscious mind that exists in all matter including humans never dies it just ether stays in the dimension it currently lives in, or It can move to another dimension or universe. If the energy shape does not fit the dimension it currently resides in it is basically forced to move. 
My belief is this:  I think this is were the idea of a soul exists. The soul and the conscious mind are one and the same. I believe that how a person lives, how their personality develops, shapes what I am choosing to call the Energy Mind. 
When ever a person dies, the shape and signature of their energy mind is tuned to certain dimensions.  And that is where it moves. That person will be reborn as a human because that is their energy mind's signature. 
This can result in people who are "good" in the sense they care about others around them and nature, which really, all humans are a part of, all end up in the same universe together. They believe in working together to solve problems and make life good for all.  Empathy evolved with in these humans from where ever it is they came from, and followed them to the new universe they now share. This can be a vey powerful combination and may result in a universe full of people who do work together and find a way to care about all of nature. 
Then there is the opposite. All those people who were born without or very little empathy.  The result is they don't care for others or nature, and have no issues with harming anyone they don't like or feel threatened by, (they are always very afraid of anything or anyone who doesn't think or look the same way they do). This also is a very powerful energy mind. Thus when dying they tend to be pulled into a universe with others of their kind. It is possible but of course not proven that these types of universes or dimensions live with in the dark matter or energy areas of the universe. 
Of course there are plenty of gray areas. hence the type of dimension/universe we now live in and may be others in the multi dimension/universe that inhabit space/time. 
Of course the story Dimensional Saga is based on these ideas and is for me  is a combination of Science Fiction blended with a healthy dose of fantasy.  One more thing, the planet that we call Earth in our dimension is called "Azure" in Andromeda's. How humans name their world and universe is based on their collective memories from the past and from their own "current" decisions. Though as can be the case with multi dimensions there are many things that are similar to our world and many that are very different. 
Dimensional Saga 
A history of how Andromeda ended up living in the Andromeda Galaxy and how she met Vega. 
Andromeda was born into a dimension that is light years beyond our own since they spend all their time working on discovery and not endless wars. They have found a way to create an extremely advanced civilization while keeping their population at a small level, so they don't overwhelm their world, and other worlds they end up inhabiting. In this world they call Azure, there are no countries or borders just land masses in-between vast oceans. 
In Azure, they discovered a way to access and travel to other dimensions. They can travel from across the Milky Way, all the way to the Andromeda Galaxy in a very a relatively short time. 
Several generations before Andromeda, or Vega were born, Andromeda and Vega's great, great. great grandparents joined the first humans from Azure, on an expedition to journey across the Milky Way into interstellar space, to the Andromeda Galaxy. 
The technology they used was the forerunner to the tech that was developed to travel through alternate dimensions/universes. They had discovered through much research and tests, that certain Black Holes where actually a safe way to travel very long distances in almost no time. 
Once the route to the Andromeda Galaxy had been crossed, and as soon as they arrived they began the creation of a "space city" named Aurora. This was established as base to search for and find solar systems with planets that humans could live on. Andromeda was born in Aurora and lived there until she was ten. At that time she and her parents returned to Azure. Vega was born there too, even though they crossed paths occasionally they didn't become friends at that time. 
Part of that story about Andromeda's ancestors on their first journey past  the Milky Way to the Galaxy Andromeda is found in the track, "Into the Black", on the album 
Slingshot Around Worlds Volume two and four. 
Andromeda Mael was the constant partner to Drake Blackwell. They worked as a team solving crimes that were out of ordinary occurrences in their Universe, and sometimes in other dimensions.  At one point Drake decided to take a new position behind the scenes. Thus enters Vega Landerak. They were both around 19 years old when Vega and Andromeda first met at a cafe in a city called New Horizon, and became best friends. They both became part of the same organization called Inter-Dimensional Continuum; or IDC . Vega has now been assigned to work with Andromeda. Vega, was working on an assignment to investigate some unusual occurrences that proved to be dangerous to the universe in which they lived. Vega was working with two partners, a good friend named Kirakya and Devick, they were both killed when things went terribly wrong. Vega was badly injured and took a long time to recover. Of course now Andromeda was given that assignment and Drake decided since those two worked well together in the past he felt Vega needed to get back to it. He thought this would be a very good team and would help her heal; both in her mind and spirit. Vega strongly agreed! 
Andromeda had traveled to Aurora, a city living out in space in the Andromeda Galaxy.  At that time Vega was also there, recovering in safety at the IDC headquarters in Aurora. Andromeda was hoping to see her here.  While waiting she decided to order her own "space car" This "flying car" is both a car that can hover over roads or fly on a planet or within the confines of a space city like Aurora. It can also travel relatively short distances in space. This was a brand new "car" that she was able to purchase after completing a very important case. It needed to be customized to better fit her needs. Once completed, she was able to remote program it to fly to where she was in Aurora, which was in an open area in the north side of the city where these kinds of vehicles would land and take off from. 
Once it arrived she was awed by its beauty. Andromeda wanted to rename it but would wait until Vega arrived.  She checked it out for a bit then got in and once she became familiar with the info screens and controls, deiced to take it on a short spin around the area. Just as the space car rose up a bit she got a call from Vega, who was nearly to arrive so Andromeda landed quickly. (without crashing) 
  Vega emerged from the taxi that arrived shortly after, waving wildly and grinning broadly at Andromeda. The two hugged and briefly kissed then talked for a long time. So much to catch up on. While standing there the simulated sunset became night time. Andromeda put her arm around Vega's shoulder, trying to console her over the loss of her team and friends. Vega still couldn't shake the feeling that it was her fault they died. If she had bothered to thoroughly read the documents found near the door to that fated apartment she probably would have sensed a trap. 
Andromeda and Vega went to check out their new ride. They stood there for a while both thinking and saying names to each other they thought would work for their space car.  They both agreed on a name they hadn't thought of in a long time. Back when they were younger they loved to travel across dimensions on their adventure vacations. This time they traveled to one they had only been to once before. They ended up in a very strange Azure like planet named Earth Phase One. (This planet had two phases to it. Earth Phase Two the people there called it.) Earth Phase Two, was not livable for long periods. There they met the with the people on Earth Phase One, who lived in various Land Stations.  A certain person they learned of had come there, not by her own wish, but through her dreams.  She had thought where she had come from was the "true" Earth. But her life was lonely and hard there. That person was named Mia. (Mia's story is told in the album Lost Sky as well as a short story)  She hadn't been in this dimension for very long and was still adjusting. Both Andromeda and Vega had spent some time with her there. It was a time they never forgot. The thing is of course, the anti-gravity space car has such advanced AI they could have complex conversations with it. Naming it "Mia's Sky", felt right to them. So even though it was a strange name for a space car they came to love it. Andromeda and Vega finally settled into their seats closed the cockpit and then "Mia's Sky" rose up until it began its journey into space to dock with a much larger ship and head off to the destination they had been assigned. 
Andromeda, and Vega's conversation during this time: 
A conversation between two very best friends Andromeda and Vega for the musical piece called You Are My Home found on the albums, Slingshot Around Worlds Volumes One and Four. 
                          Andromeda is out in Aurora City, getting ready for her new assignment. She gets word that her best friend, Vega, whom she hasn't seen in several years is coming to meet her finally to begin the new case with her. Exiting the taxi, Vega, ran to Andromeda smiling and waving! 
Andromeda: 
"Oh my stars! Vega, my friend! We have been apart for far too long. Too many worlds and dimensions between us!" 
Vega: 
"Andromeda! I agree, and we can't let that happen again! I have felt you and dreamed of you as if you were with me all that time." 
Andromeda: 
How did we let our universe pull us apart like that. I know of what happened to you. I thought I would never see you again. That I couldn't follow where I thought you were going." 
Vega: 
Oh, my friend, I was sent to find out a dark thing, something that could be the end of our home! We were so close to finding it but it found us and then...." 
Andromeda: 
"Vega, you are my home! I will let nothing take that away from us. But come we will find this thing you were searching for. You and I will no longer be apart, what ever comes to us we will be with each other to face it." 
Vega: "Thank you Andromeda that makes me feel a little better." 
Andromeda: 
"I do need to hear all about what you were looking into and where you traveled to, but time for us to go." 
Vega: 
"Yes, time for our travels to begin, though I want to do this, I have to do this, the core of me still fears the road ahead." 
Andromeda: 
"I understand where you are Vega, though I think this will be a good thing as I know we will find answers and we will be ok. I am with you mind, heart, and all my energy!" 
Vega: 
"Time to journey out beyond the Stars!" 
Once the two friends landed on the Starship, they took a pause for Vega to relate to Andromeda all she new about the case she had been pursuing. Vega said they and others at the IDC had discovered some disturbing events that were occurring in various spots in both the Milky Way Galaxy and the Andromeda Galaxy. They were able to detect life forms entering and leaving close to the outer edges of Andromeda's Spiral, Neptune, Maroon (Mars to us, there is no god of war for them}, and Azure, . Also they found even more disturbing that on one of the smallest moons orbiting Neptune there were unnatural seismic events occurring. Ones not caused by the natural shifting of tectonic plates or of volcanoes.  As they deepened their investigation they found most of the activity was happening not far from Azure. Vega related all this as well as sharing some documents the IDC had provided. Vega picked up the story from there. Vega related to Andromeda that through the scans of the activity near Azure, they could determine that the life forms which seemed to be human were traveling from the area they had appeared, which was about 200 miles outside of Azure's orbit. They were able trace where they traveled to from there. These agents discovered through the trace readings that they had traveled to a city called London. Also there was a certain Dimensional Teleportation Scientist that had gone missing. Her partners had investigated his home and found some disturbing documents. Vega and her team followed the footsteps they found into the heart of London where they vanished. Or so they thought. Vega and her two partners followed the traces they could find of the energy signatures left by who ever these persons were, into and throughout London. These energy traces led them to an empty building that looked to be what was a small, but abandoned apartment building. One of Vega's team moved quickly down the hallway as he spotted a folder laying on the floor. He picked it up and opened up what looked like a journal. Vega ran up to him and ran her energy scanner over it and sure enough the signature matched those they had been following. The document said something about finding some very important information about this version of their, (who ever these persons are), Earth, inside Apartment #5. Vega's two partners told Vega to wait a second, that they would look inside first. The moment they opened the door and stepped inside they felt a strong pull like that of an extremely powerful vacuum. Next thing they knew they were pulled into a dark gray formless void. Vega ran in as soon as she saw her partners vanish, and found herself pulled into the "void" herself. As soon as she realized where she was, she saw her two partners laying on the floor and then she heard, then felt, painfully, shots  fired. Several spots on her body started to spurt blood. Instinctually she reached into her side pocket and squeezed the trigger of a dimensional device that quickly pulled her back into the apartment in London. Quickly as she could, Vega, stumbled out of that apartment holding her left side.  The moment she was outside the apartment she collapsed in searing pain on the floor and blacked out. Because she was linked to her ship and to the IDC via her DNA, and alarm had gone off that she was no longer conscious. Several agents were able to get her to their ship in orbit and then in an instant rushed her to their headquarters where she was tended to, and in time able to recover. Later when she was well enough they transferred Vega to Aurora city. This is what Vega related to Andromeda as to what had happened to her. They talked this over for a long time and knew that pursuing these people would be so dangerous they had to take some time to prepare. One thing that Vega brought up was that time they had met Mia. They ended up both agreeing to travel to the universe where Mia was now living and seek her help with their mission. 
The two friends then traveled to the dimension that Mia called the "Lost Sky" dimension. Strangely the people whom, Mia, met there and became friends with only referred to their world as Earth Phase One or Phase Two. This was still confusing to her and since, when first found herself in this dimension, and the searing realization, that the sky she first saw there was not her own sky.  This sky was not one she grew up loving. Mia's deep blue sky was gone. Mia called this planet Lost Sky, of course only to herself. 
Time jump here 
This is a trip back to Mia when was eight years old. This actually when Mia first met Andromeda and Vega though she didn't know it. 
Mia's Journal 
April 12th 2016 
Yesterday was my eight birthday. This morning I woke up from the most strange but real dream I have ever had. I remember it all as if I had really been there. 
I found myself sitting behind two young  women, I think in their early twenties. 
We were on a space ship orbiting Earth. The one on the right, who was the pilot, turned around and looked at me and  asked if I was ready. She was going to spin up the rockets so that the ship would break Earth's orbit. I could feel intense pressure on my body. I remember looking at my hands and thinking these are older hands. In seconds I could see the Earth was getting smaller and smaller. 
I think I actually fell asleep in my dream. When I opened my eyes, I was all by myself in a forest meadow. There was buzzing of things flitting through the air all around me. When I could focus more clearly I was amazed. All around me were Pixies and Faeries flitting about. Small dragons and unicorns were running in circles around me. Then it all became misty and I could just make out what looked like some kind of alien space ship at the edge of the meadow. It was small; I think the size one person could get in side. I woke up right after that. 
Such a strange dream to have. I felt as if I knew the two women. I felt like this meadow was a very special place for me. I wonder what it all means. 
This conversation is the final track in the album Slingshot Around Worlds Volume Four. 
Mia: "Yesterday, Andromeda and Vega, whom I met a few years ago, back when I was still new to this "Lost Sky" dimension I now live in, have contacted me. They told me they just arrived and need to talk to me urgently. I was very happy to hear from the two, and suggested that we meet in the same place we met before but at the lake here." 
"Both Andromeda and Vega now are sitting here with me as we gaze upon this wondrous lake that still helps me find peace within myself." 
"I am recording what was said for future reference what was discussed." 
Andromeda:  "Mia, it is so wonderful to see you again. Vega and I missed this world. You seem to have done well here." 
Vega:  "So Mia, I am sure you are wondering why we are here." 
Mia: "Yes, Vega, I am very curious." 
Andromeda: "Vega and myself are on a journey in our universe to discover something that may threaten our very existence. I know this may sound dire, but  we have to look into it and find every lead and search for those who mean us harm." 
Mia:  That sounds scary you two, but why are you here telling me about this?" 
Vega: "I will tell you this first, I was already looking into this and the partners I was working with stumbled on to some information that led us into a trap. I nearly died and both of my partners were killed."  "I can see, Mia, that this has you very concerned and this is why we are here. We don't think we can do this, just the two of us. We are seeking your aid." 
Andromeda: "We never forgot what you had told us during out last visit. We both think your ability to move through dimensions. or other universes through dreams and sometimes showing you future things, will be a just what we need." 
Mia:  "I am not quite sure what to say you two. I am experiencing some intense dread here, but I would never abandon friends when they need me. I know what that feels like. Umm, do you think if this threat isn't stopped it might find its way here? 
Andromeda: "That is a possibility, Mia, Vega does have some data that the persons we are investigating have found out how to travel across dimensions also. If they succeed they might try and come here too. That, is just my thought, it might never happen." 
Mia:  Ok girls, I understand how dangerous this will be, even though I can help with my gifts, I know nothing bout fighting if it comes to that. 
Vega: Mia, we will train you as much as we can but we hope having you fight along side us will not what will happen. 
Mia:  "You know, what we wish for and what occurs are two different things. Please give me some time to say good bye to my friends here and we can go" 
After Andromeda and Vega's second visit was finished, Mia agreed to join them on their mission. 
Before Mia actually joined on the mission Andromeda left to go create a pocket dimension home for Mia. Both Andromeda and Vega have their own homes in separate pocket dimensions. Each a home is very secure and nearly impossible to get to except for the residence of each of the three homes. 
(Side note; at times Vega or Andromeda when talking to Mia or if she is in the same room, they will both refer to Azure as "our Earth or just Earth so as not to confuse Mia. At least until the name of their planet becomes second nature to her.) 
                           Dimensional Saga continues with the album Escaping the Void: 
Vega and Mia continued on to Azure. There Vega took Mia to New Horizon where both herself and Andromeda spent a lot of running around years ago. Then to their favorite cafe. The place both Andromeda and Vega first met. 
Vega:  "Mia, I am letting you know before we head out on our mission, we will pause for a short while to help you become acclimated to our universe. Andromeda has left to set up your own "home" for you. It lives in a pocket dimension." I am sure you know all about those since that meadow you told us about appears to have been one too. We will train you in this place of yours, and allow you some time to relax and enjoy all the wonders of your new home before we leave.  This place exists outside of time and space so when we return it will be as if we never left." 
Mia:  "Ok" 
Mia and Vega continued talking, Mia looking around her feeling the ambience of this place that in so many ways was way beyond any thing she had experienced and yet it was strangely familiar. She asked how it was when Vega had first met Andromeda……. 
Dimensional Saga continues in the album, Chasing Footsteps Across the Stars. 
Beyond the Stars Pt 2 
  Vega:    "Andromeda, I think something is wrong with Mia?" 
Andromeda: "You're right!  She is slumped over a bit and seems to be in a trance. " 
: Vega puts her right hand on Mia's Shoulder, gently shaking it. 
Vega:  "Mia, Mia, are you there, what is happening to you?" 
  Mia, stirs a little bit but even with her eyes closed tight, she utters: I am in another place, A group of men and women are standing in a room here, talking in whispers. 
Mia then awakes and seems very alert. 
Mia:  "Friends, I can tell you now what I have seen. It is very important for our mission." 
Mia:   "I traveled to another dimension but this time it was like a vision then actually being there. I could hear their whispers, There seemed to be a leader amongst them. I never heard any names though. He was talking about having lived in our dimension, Andromeda, and Vega! 
He said, "I became a teleportation scientist and learned how to create a portable version which I brought with me here." Then it turned to the darkest conversation I have ever heard. They apparently had all perished in corrupted, extinct world in another dimension. At that moment I found my self standing on a desolate and dead world! I was only there for a short time then found myself back in this room. 
I couldn't believe what I heard next from them. They blamed our universe for destroying theirs. 
You two wouldn't know anything about this?" 
Andromeda:  "Not only would no one here attempt to destroy another world ever. We don't seek out dimensions that exist in the dark energy areas of the universe.  If that is where this one was. I doubt anyone here would even know of this world he was talking about. I do wonder how he ended up in our world." 
Mia: "Thanks. We need to look further into this and find out just how and why their world was destroyed. 
Vega: "I am so glad you are ok and it appears you have already aided our mission in a way we could have never accomplished without you!" 
Peering into the Strands of Mystery 
The story, so far, is after Mia's discovery, of an individual who had lived in the universe that was home to both Andromeda, Vega, and now Mia. He was what is known, as a Dimensional Teleportation Scientist. And had created a teleportation device that was portable and had gone to a dimension he really regards as his home. 
The people in this dimension all had memories from their previous dimension where they all perished. Of course this man had spread the idea that the dimension he had lived most of his life in were the ones who destroyed their world. Mia had discovered these truths while traveling with Andromeda and Mia in Andromeda's space craft to a Star Ship where they would work on discovering where and how to proceed with their mission. While traveling there, Mia, had gone into a trance where she, only in her mind, had found herself in a room where  this individual along with what appeared to be members of a group who was trying to find out why they keep all perishing on what ever previous worlds they had lived on. 
Andromeda: "Mia, we need to find out everything about this man you told us about. Discovery is so important here. The best way for us to do this is see the visions you had so we can see what he looked like. Since he said he was a Dimensional Teleportation scientist, he would have been registered as one. This way we can find all the strands relating to his existence. We have what is called a Dimensional Mind Wave Array, this will record everything you saw. Are you ok with this?" 
Mia: "If this will help with everything we need to know then sure!" 
Mia:  "Journal entry October 10th 5037 (Time flows very differently here, then where I had previously been living)" 
"I lay down on a what seems to be a normal bed with sensors floating above my head. Very soon I felt as if I was floating weightless. I closed my eyes and I could see images coming into focus, then vanish slowly as new visions come into view. I see the images of a man with dark brown hair and grey eyes, he seemed to be looking right at me but not really seeing that I was there. He looked so intense and angry as all those around him were shaking their fists and claiming we are going to do something about that evil world! I then found myself floating above a desolate and lifeless world. The vision fades and I am now awake." 
Mia: "Is it done? You have what we need now?" 
Vega: I believe we have what is needed now. 
Andromeda: "We can begin to discover all the strands of who this man is and where his world exists." 
Peering into the Strands of Mystery Pt 2 
After a time Andromeda came to realize that Vega appeared to be very pensive and reserved. She asked Vega what was going on with her. 
Andromeda:  "Vega, you seem very concerned and intent on telling us something?" 
Vega:  "Yes, I have been holding back until we find out more about the man in Mia's vision. You know I told you the details about what happened to me and my partners while investigating the very mystery we are now perusing. And Mia, I will fill you in later on that. The  truth is when all of this had first come to light, a particular scientist, I believe the one in your vision, went missing for about a month before anyone had noticed. He was gone sometimes for a couple of weeks at a time, but always let everyone he worked with know when he would return. This time there was no word.  Two members of my team were sent to investigate. They found some recordings in his home office that I know seemed to have been left behind on purpose. They were disturbing and didn't match what we knew about him. As I related to you before, Andromeda, he and some his followers apparently, had been waiting for us to show up at that apartment in London where we were trapped and pulled into a void where my partners died and I nearly did. Because of your visions, Mia, I know the name of that person. Emmet Sinclair, is his name. The task now is to find out where he went to after attacking us on our own Earth.  First, we need to use all the tools we have, to find out where he went, which is possibly in another dimension. We know this is likely since there have been no planets in our universe that we know of that have had large extinction events occur on them.  All we know of Emmet, is that he was born on our Earth and was a very intelligent and perfect citizen. We, first need to find out all we can about him, once we are satisfied with that then it will be time to see where he went to. I hope we are able to go there. If, Andromeda, as you said, his world is in a dark energy area of the universe then we need to make preparations to travel there as it will be quite difficult and dangerous." 
So Mia you get to join the both of us and see and experience our Earth, beyond that cafe we went to before." 
Azure Nightmares and Aural Dreams is also 100% story and the final chapter in Dimensional Dreams.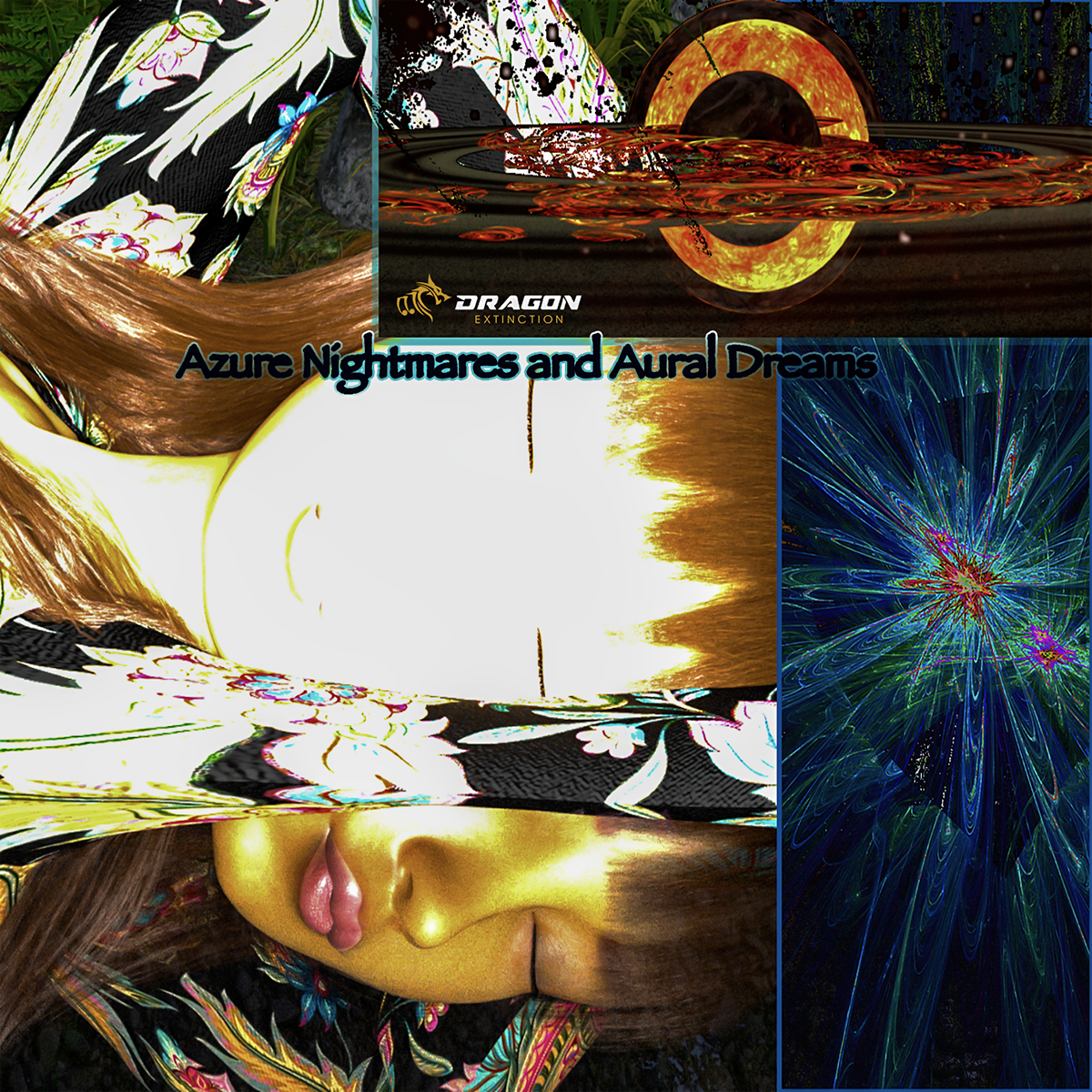 This is the final chapter for Dimensional Saga: 
"Somehow I am out here, dreaming? A giant planet in the distance, a small moon near to me. No warning! The moon explodes into a million specks of dust! I must warn the others!". 
What has occurred is they discovered a moon around Neptune. 
Narration: As Andromeda, Vega and Mia returned home with the specter of having learned of the total destruction of Neptune's smallest moon, Hippocamp. They met quickly with the IDC then  returned to their home on the northern outskirts of New Imagine. They planned to immediately head to Emit Sinclair's home to search for more clues. They had planned on showing Mia around more but there was no time now. 
Mia:  "All I can say is your home is such a dream, I am sad and worried cause of the reason there is no time to explore your wonderful world, Azure." 
Vega: " I know, I was looking forward to show you Andromeda's and mine, favorite places." 
Andromeda: I just hope we can find out how to bring a good end to this story we find ourselves caught up in." Then we can explore to your heart's desire.
Narration: As Andromeda, Vega and Mia returned home with the specter of having learned of the total destruction of Neptune's smallest moon, Hippocamp. They met quickly with the IDC then  returned to their home on the northern outskirts of New Imagine. They planned to immediately head to Emit Sinclair's home to search for more clues. They had planned on showing Mia around more but there was no time now. 
Mia:  "All I can say is your home is such a dream, I am sad and worried cause of the reason there is no time to explore your wonderful world, Azure." 
Vega: " I know, I was looking forward to show you Andromeda's and mine, favorite places." 
Andromeda: I just hope we can find out how to bring a good end to this story we find ourselves caught up in." Then we can explore to your heart's desire. 
Mia: "We better get going then!"
Narration: The three women went to Emmet Sinclair's home and began a search. 
Mia, checking all the drawers in an office desk, found a notebook in a hidden compartment. The notebook had strange symbols on all of the pages. She showed it to Andromeda and Vega. 
Mia: "It is puzzling that this notebook was in a supposed secret compartment in his desk but I found it so easily. 
Vega: "It must be similar to the original notes my old team saw just laying in an obvious place; as if they were meant to be found." 
They had no idea what these symbols were for. Vega thought they must be a strange language or code. Both intrigued and frustrated that they had no idea what to make of the symbols, they put the notebook in a pack they had with them and decided to head back to the IDC to see if they could figure them out. 
Mia:  I have a very bad feeling that we are running out of time. Since they already destroyed a moon and hopefully we can find out how they did that. I sense we won't have time to travel to their world. That and all I can tell from them, makes me think we will never be able to change their minds about us. Even if we were sure it was they who destroyed their own world they wouldn't believe us. I know from experience on my own Earth. 
Andromeda: "Mia, I believe your right We  need to get this notebook to some experts in what look like alien symbols at the IDC and make sure they understand that we need to come up with a plan to prevent them from doing to our universe what they did to Neptune's moon." 
After a week of intense research by the top linguists, they determined this isn't some ancient language but mathematic equations. They reached out to their top people who, after a month of study, determined the notebook contained mathematic equations for condensing an intense  beam of dark energy. Since what happened to Neptune's moon they realized these must be equations for focusing powerful beams of dark energy. Of course then the debate began on what do do about them! The option to attack these very dark souls was tossed out, the reason is they always default to not killing, especially whole civilizations. Plus that would prove to them that we are the ones who destroyed their world. It was settled that they needed to prevent their dark energy beam from working. 
Andromeda received the news first. She reached out to Mia after talking to Vega: 
Andromeda:   "Mia I am very sad to say this, I have talked with Vega about this just to make sure we agree. As you said we don't have time to try and prevent what is coming, Our best experts are working on a possible way to keep their plan from being successful. But in case it doesn't work we believe it would be better for you to be safe. We can return you back to the dimension you were living in. But it is your choice. 
Tears begin flowing down Mia's  saddened face, "I feel like you two are the first real family I have had in my life. Though I do love the people I got to know in the Lost Sky dimension and would be happy to return to them. I can hardly bare the thought of loosing you two forever. But why don't you come with me there, I don't want to loose you!" 
Vega: "I am so very sad that we may never see you again. I felt a close connection to you Mia! But first this would allow someone to survive for sure and I don't know how things would play out but you could warn them about this threat.We need to be here as we have a very large extended family we can't just abandon.  If we survive and the technology we are creating to save us does it's job I will contact you as soon as I can. 
Mia: Oh really? What have your people created that gives me a little hope?" 
Andromeda: "Our scientists call it the Infinity Mirror. They actually started working on this years ago, as they were already trying to give us a way to prevent what happened to my team and I.
Narration:  It feels like the years have sent Mia into a spiral of dreams and visions of what might be but probably will never occur. 
One day, Mia, sitting by her favorite place, remembering when she sat by this lake talking to Andromeda and Mia. Suddenly a blue-grey fog forms around her. 
Mia feels a warm breath close to her right ear. 
Vega appears behind Mia, stoops down to whisper into Mia's ear while placing her hand on Mia's shoulder: 
Vega: "Hello my friend I am here as I said I would come back to you." 
Narration: Mia as if fully expecting this, does not start but turns around to face Vega. 
She stands and throws her arms around Vega. 
Mia: "Your here!!" It has been so long, I feared your world wasn't saved! 
Vega: "Tragically, Mia, it wasn't. My memories just came back to me and realized I hadn't come to find you as I promised." 
Mia:  "Why isn't Andromeda with you, Vega?" 
  Vega: "I don't know where she is, I haven't seen her and unable to find her. Could be she was reborn in a different universe than I." 
Narration: Mia, changes from very happy to sad but then relieved her friend Vega is here. 
Narration: Mia wanted so much to hug Vega again but as she reaches out, the fog vanishes and Vega is no longer there. 
Mia: "Oh a dream or vision". 
Narration:  She looks down into the rippling water and wonders if this will come true someday.
Sadly, as in our world, the bad guys always seem to win. 
But sometime in the future the story can change……..